On November 6 & 7, 2022, we welcomed Dr. Ben Witherington III, renowned New Testament scholar, as guest speaker for the Edmunds Lecture Series. The Edmunds Lecture Series of Second Presbyterian Church is a biennial series offered on even-numbered years in conjunction with St. John's Dodson Lecture Series. Stay tuned for updates and announcements on future Edmunds Lectures.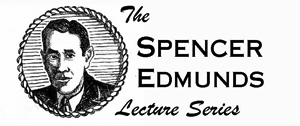 Dr. Spencer Edmunds served Second Presbyterian as its Senior Minister from 1923-1941.
The Edmunds Lecture Series of Second Presbyterian was established in 1985 by S. Spencer "Buddy" Edmunds as a way of honoring his father's commitment to joining scholarship with congregational life.
The lectures continue to attract outstanding preachers and theologians to educate and inspire the Roanoke Valley.
About the Speaker: Dr. Ben Witherington III
Bible scholar Dr. Ben Witherington III is Amos Professor of New Testament for Doctoral Studies at Asbury Theological Seminary and on the doctoral faculty at St. Andrews University, Scotland. A graduate of UNC, Chapel Hill, he went on to receive an M.Div. degree from Gordon-Conwell Theological Seminary and Ph.D. from the University of Durham in England. He is now considered one of the top evangelical scholars in the world, and is an elected member of the prestigious SNTS, a society dedicated to New Testament studies.
A popular lecturer, Witherington has presented seminars for churches, colleges and biblical meetings not only in the United States but also in England, Estonia, Russia, Europe, South Africa, Zimbabwe and Australia.
Witherington has written over sixty books, including The Jesus Quest and The Paul Quest, both of which were selected as top biblical studies works by Christianity Today. In 2020, he won the AAP Prose Award in Theology and Religious Studies for Biblical Theology: The Convergence of the Canon (Cambridge U. Press, 2020).
Along with many interviews on radio networks across the country, Witherington has been seen on the History Channel, NBC, ABC, CBS, CNN, The Discovery Channel, A&E, and the PAX Network.
About the Artist: Jane Winders Frank
Our appreciation is extended to Jane Winders Frank for her interpretation of the 2022 lecture series. Original art has been produced for every lecture series since 1999, when Dr. Bud Robertson was the speaker. Each piece depicts the theme of the lecture the year in which it was commissioned. All the works can be found somewhere in the church facilities, with several them hanging in the hallway between the Associate Pastors' offices. The hope is that the art collection of the church will inspire both memories and theological reflection.
Jane Winders Frank, self-employed artist, is a longtime member of Second Presbyterian Church who has pursued art interests for many years. She has exhibited in regional, national and international competitions, and currently teaches at The Studio School. Jane is well-known throughout the Roanoke Valley and beyond for her gifted artistry. She is married to John Frank.
A word from the artist . . . "When deciding what to paint for the Edmunds Lecture 2022, I became intrigued with creating my own image of Jesus, especially on a day when he was by himself and content. I drew the image free hand and developed it from there. I used acrylic paint, collage papers, and rubber stamps and markers on the borders to complete the piece." – Jane Winders Frank
Jesus on a Quiet Day
Original artwork by Jane Winders Frank
Schedule of Events
2022 Edmunds Lecture Series: The Uniqueness of Christ and His Most Unique Disciple
Sunday, November 6, 2022:
8:45 and 11:00 a.m.: Worship, Sanctuary

Join us for our Sunday morning worship services to hear Dr. Ben Withering offer the morning's sermon, "That Still Small Voice," and scripture reading from 1 Kings 19.

7:00 p.m.: Lecture, Sanctuary

"A Singular Jesus in a Pluralistic Culture"
Reception to follow in Fellowship Hall
Monday, November 7, 2022:
7:00 p.m.: Lecture, Sanctuary

"Beloved but Unknown"
Reception to follow in Kirk Hall
Admission is free. These lectures are partially funded by an endowment in memory of Dr. Spencer Edmunds, a faithful minister of Second Presbyterian from 1923 to 1941 and the Kittye Susan Trent Fund. We have not yet reached a level that will fully sustain the biennial series, so if you would like to make a contribution, your gift will be greatly appreciated.